I have spoken to many people who haven't visited the relatively new Ikea in St. Louis because it is so large and different than other stores.  In fact, it can be intimidating to seasoned Ikea shoppers.  I have a friend who has shopped Ikea for years but she still has a process of going once to browse and then going back to actually purchase what she needs.  As I have become fairly acclimated to the store through my Mamakea furniture assembly business, I thought I would try to explain navigating Ikea St. Louis through a series of posts.
This is Part One of navigating Ikea St. Louis and is an overview.  In the beginning, this would have helped me figure out what level I was on and where I needed to be.  Don't forget, the store doesn't start until Level Two—ground level is only parking.  This can be a bit disorienting.
Ground (First) Level: Parking—outside or covered
Second Floor: Småland, carts, Marketplace, self-serve furniture area, check outs, Bistro, Food Market, Customer Service, large furniture pick-up
Third Floor: Restaurant, Showroom, Children's Ikea, Ikea Family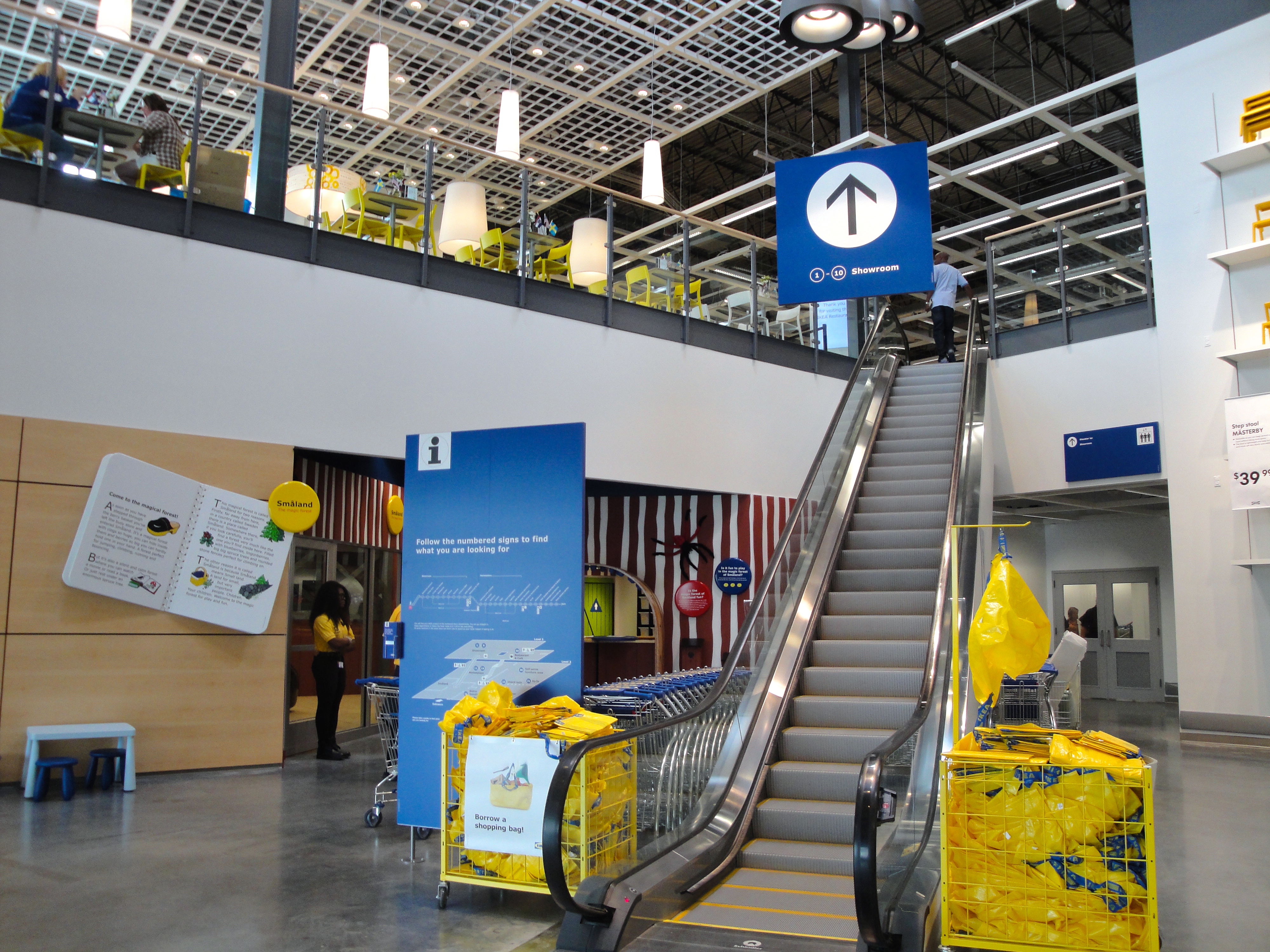 Navigating Ikea
A Practical Guide (arrows indicating if you are going up or down–find nearest escalator or elevator):
Park (covered parking)
Outside escalator to second floor  ↑
Inside escalator to third floor   ↑
Eat at restaurant
Down stairs to second floor   ↓
Drop off children at Småland
Up stairs/escalator to Showroom  ↑
Follow Showroom route (make notes of furniture you want to buy)
Down stairs to Marketplace  ↓
Grab cart/yellow bag
Follow Marketplace route
Pick furniture in self-serve area
Check out
Shop the Food Market
Grab a snack from the Bistro
Pick up large furniture from pick up area
Pick up Children from Småland
Downstairs to parking  ↓
Pull to loading area/load car
Home
Call Mamakea to assemble furniture!
This is a link to the Ikea explanation of how to shop their store.  My next post will include more detail and some tricks for shortening your trip and finding exactly what you are looking for.